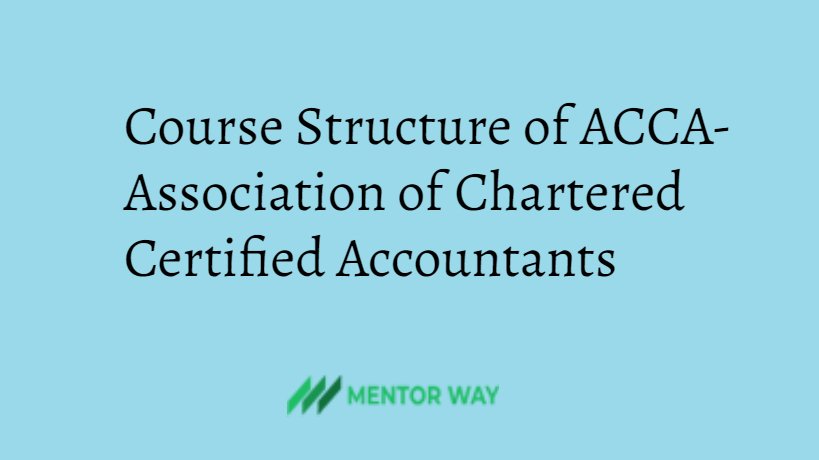 Course Structure of ACCA:- Association of Chartered Certified Accountants (ACCA) is based in London, United Kingdom (UK) and founded in 1904. ACCA is known as the global body which creates professional accountants across the world. It is having recognition in 180+ countries across the globe.  1 in 5 ACCA professionals is working in top positions like CEOs, CFOs and Head of Finance.
If you have dreamed of becoming the top leader in the organization, ACCA will help you achieve your dream. It is essential to understand the course structure of ACCA before pursuing it. Let us explain it to you.
First Level in ACCA Course: Applied Knowledge
The first level or the entry level of ACCA is Applied Knowledge Level. It consists of three papers:
Accounting in Business (AB) (F1)
Management Accounting (MA) (F2)
Financial Accounting (FA) (F3)
Once you clear this level, you will be awarded a Diploma in Accounting and Business.
Second Level in ACCA Course: Applied Skills
The next level is the Applied Skills Level. It consists of six papers.
Corporate and Business Law (LW) (F4)
Performance Management (PM) (F5)
Taxation (TX) (F6)
Financial Reporting (FR) (F7)
Audit and Assurance (AA) (F8)
Financial Management (FM) (F9)
Once you clear this level, you will be awarded an Advanced Diploma in Accounting and Business.
Final Levelin ACCA Course: Strategic Professional
The last level of the qualification is Strategic Professional level. It consists of four papers. Two papers are compulsory, and one can choose any two out of the four available options.
Compulsory:
Strategic Business Reporting (SBR) (P2)
Strategic Business Leadership (SBL) (P1 & P3)
Optional (Choose any two out of four options)
Advanced Financial Management (AFM)(P4)
Advanced Performance Management (APM) (P5)
Advanced Taxation (ATX) (P6)
Advanced Audit and Assurance (AAA) (P7)
Once you clear all the four exams at the professional level, you can apply for becoming the member subject to completion of three years training and Ethics and Professional Skills Module.
Additional Module: Ethics and Professional Skills Module
Work Experience: Three-year experience is required to become the Member of ACCA. This experience can be in the relevant field either before joining the ACCA or while pursuing the qualification or after completion of all thirteen exams of ACCA.
Duration: This course will take one to four years depending on various factors like exemptions, the frequency of exams appearances and the result thereof.
Exams: Exams are conducted every quarter, i.e., in the first week of March, June, September and December. You can appear in any one paper at a time.
Minimum Pass Percentage: In every exam, you need to score a minimum of 50% marks to clear it.
How to join ACCA Course?
If you are interested in joining ACCA course in India, then you must contact the approved learning partners of ACCA in India who can help you register in ACCA. They also help you in pursuing the ACCA course as well. You can choose any of them and take coaching classes from them. You can also join online live classes or ACCA pendrive classes which is available at your convenient time and place. The cost of the classes is worth paying. Free video lectures, free open tuition and free study material, is available throughout the internet, but it does not take responsibility for the quality of the content and the results in ACCA exams.
Caution before joining ACCA Course 
Join ACCA course through approved learning provider and refer approved study material of ACCA only. As of now, only two publications are authorised to issue approved content for ACCA. These two are BPP Learning Media and Kaplan Publishing.
Be wise while you join the ACCA coaching classes and use study material.
Hope you liked this article.Keep Visiting Mentor Way for more articles like this.
About Post Author