Free NCERT Solutions Class 11 Chemistry PDF Download
3 min read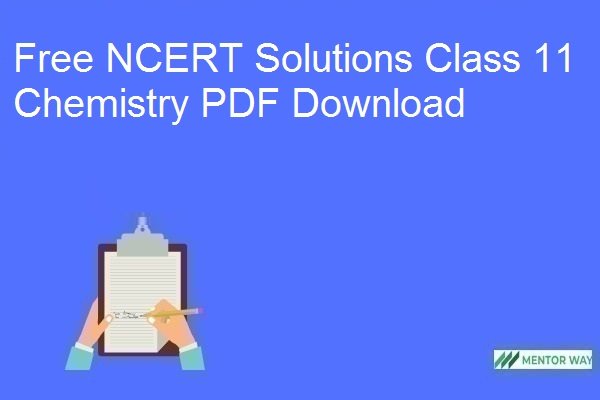 Here you can freely download NCERT Solutions for class 11 Chemistry, We have listed all the chapters PDF.  All the Solutions available here are the latest.  There is no Login, nor  Sign Up, neither Redirects, just click the downloading link, you can view your PDF and download accordingly.




Download Free NCERT Books for class 1st to 12th 
NCERT Solutions for Class 11 Chemistry Free PDF Download (Chapter-wise)
Download Complete NCERT Solutions from Class 6th to 12th
Chemistry is fun! Chemistry is interesting! Chemistry is scoring!
Want to know how? Then bookmark this page. You will get solutions to all your problems on this page itself. Chemistry is a study of matter, chemicals, and their reactions. We deal with chemistry in our day to day lives as well. All the medicines which you use to treat yourself are the blessings of Chemistry only. Your cooking involves chemistry too. The amount of salt added, the water content, etc. all are real examples of chemistry.




The basic seeds of chemistry are sown in class 11 when you take up chemistry as your major subject for science streams. Chemistry holds equal importance in both medical and non-medical streams. So, to get a mastery of the subject you need to follow your prescribed NCERT textbooks and solve all the questions multiple times. For better help, we offer NCERT solutions class 11 Chemistry PDF.
All the solutions are based on the latest examination trends and CCE marking scheme. After understanding the chapter, it's time to revise by solving the back exercises. If you feel that you are not getting the questions or are unable to understand how to answer, refer to this solution book.
NCERT solutions class XI chemistry covers solutions for all 14 chapters in a step by step manner. We have provided proper illustrations for a better understanding of the student. If you aim to score 90%+ marks in the examination, you need to follow this solution book die heartedly.
NCERT books are the foundation blocks for your entrance examinations and higher education. BE it AIEEE or JEE or PMT, you have to very clear about your fundamentals in chemistry. As if you don't know how the nature of the substance, you cannot predict the reaction it will be undergoing.
For every element, you must be very clear about its nature, it's positioning in the periodic table, and the internal electronic configuration as well. This will help you understand how any reaction is working and help you to predict the outcomes or the byproducts.




Solutions to all the 14 chapters are it organic, inorganic, or physical chemistry, stress is laid on concept clearance. We at NCERTbooks.mentorway believes that every student is capable of scoring good marks in the exam, for that he just needs the right direction and good study material.
We offer the most comprehensively designed NCERT solutions to class XI chemistry syllabus which will help students excel in their future endeavors.
About Post Author