Integrating Technology In Office Design
3 min read
Integrating Technology In Office Design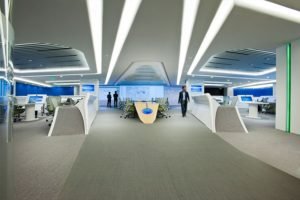 Integrating Technology In Office Design
Modern offices are more collaborative than ever before and need to quickly adapt to changes. A major reason for these new and ever-evolving ways of working is the growth of technology in the workplace. Office designers are finding innovative ways of incorporating technology into the work environments in a range of industries. A well-planned office design can implement technology to achieve business objectives and future-proof the work environment, thus saving money in the long-term.
Technology is a driving force that changes the way people and businesses operate. With a technologically enabled office setup, the employees can work smarter and faster, both of which are beneficial for the business.
When technology is integrated into office design, things such as screens for presentations, video conferencing capabilities, wireless charging ports, smart boards, data sharing, and similar conveniences are included. The key is to use technology to help employees address potential issues related to collaboration, communication, project management, and other critical business areas.
Mobile technology has revolutionised working practices, this in turn has influenced office design. The days when employee's hauled paperwork everywhere are long gone and everything from invoices to contracts can be stored digitally. Workers are constantly on the move and able to access emails and other messages from anywhere, which has inevitably had a huge impact on how offices look and function. Remote working is now prevalent and hot desking has been adopted by many businesses to save on space and costs.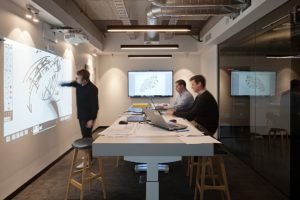 The move towards flexible working has made the need for integrated chargers and power points in offices. Powered furniture with built-in power adapters and multimedia capabilities that benefit both employees and clients who visit the offices has become a trend.  Chairs, sofas and desks are being built with hidden and discreet power points.
It is likely to become a popular way to charge phones and mean that staff can be even more flexible in their movements to and from meetings. Integrated technology can be a catalyst for inspiring and supporting the kind of spontaneous interaction that generates productivity and innovation.
Employee mobility requires technology that reliably supports the ability to work from anywhere. Wi-Fi, video conferencing, charging stations and power sources are essentials that must be integrated into a design plan from the beginning of a project. Employees also expect a higher level of control over their work environment.
Furniture manufacturers have become crucial to providing this flexibility. Furniture for commercial spaces is designed to respond to individual users, including pieces like smart desks and furniture with integrated technology to support workplace mobility
Other uses for technology in the workplace include "touch tables", which are giant iPad tables that can be useful in meetings. Ergonomic smart furniture is now being developed with technology to warn workers of poor posture. A new high-tech office chair uses sensors to monitor exactly how a workspace is being used.
It can be paired with a new standing desk that is connected with an app to relay your position and automatically adjust preferred settings as you switch to other work stations.
Hope you liked this article. Keep visiting Mentor Way for more articles like this.
About Post Author