Two Levels Of Maths Exams-Standard And Basics
3 min read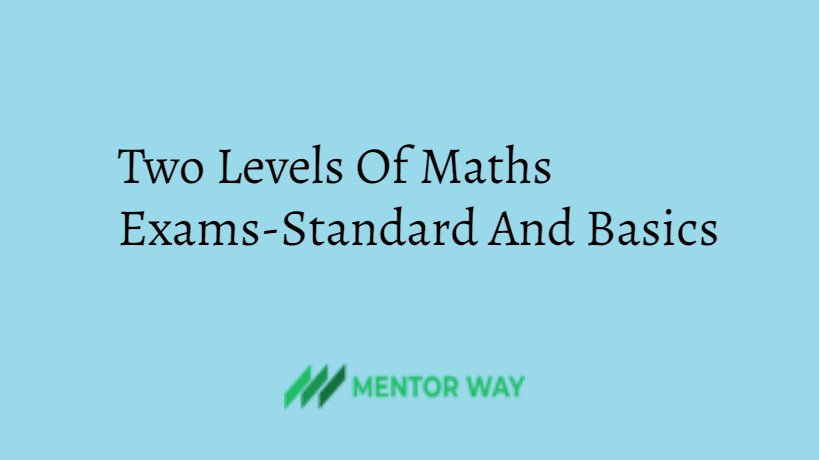 Now CBSE Class 10 students can choose easier level of  Maths exams from 2020
The Central Board of Secondary Education (CBSE) has decided to conduct two levels of exams in Maths from the year 2020. The new scheme will be applicable for students of class 10 from the academic year 2019-2020. The step has been taken to help students. The two-level of mathematics are:
Mathematics- Standard
Mathematics- Basics
Maths- Standard is the current level of Maths exam. It will be slightly tough than the other level. In this level of question paper, more analysing and long questions will be asked. Students choosing this level can opt for Maths in their higher classes.
Mathematics- Basic will be the more manageable level of Maths exam. This level of Maths exam will be more convenient as compared to Mathematics- Standard. Mathematics- Basic level of exam will be conducted for students who do not want to pursue Maths in Secondary Education.
The change in exam structure will help to reduce the stress level of students during exams. It is one of the toughest subjects. Keeping this in mind CBSE has made the change in the exam system. It will be benefiting more to the students who want to pursue Arts in higher education.
Comparison of Mathematics- Standard and Basic Level
| | | |
| --- | --- | --- |
|   | Mathematics-Standard | Mathematics- Basic |
| Syllabus | Same | Same |
| Assessments | Same | Same |
| Teaching Style | Same | Same |
| Terminal Exams | Same | Same |
| Board Exam | Difficult | Easy |
Although, Maths exam will be conducted in two levels the syllabus, assignments, internal assessments and classroom teaching will be the same.
When Can Students Choose?
Students will have to choose between the levels of maths exams at the time of submission of the list of candidates. While sending the list teachers will make sure that every student fill their choice between Mathematics-Standard and Mathematics-Basic
Can Student change their choice???
In case a student later changes his mind and wants to take Mathematics- Standard then he will have to wait till the board results. He will have to fill the compartment form in which he can change his choice and give Mathematics-Standard exam. It will raise his mathematics level. After passing the compartment exam, he will be eligible to take Maths in his higher education.
Students can also shift from Mathematics-Standard to Mathematics-Basic through the process mentioned above.  Earlier, there was no option for a Maths exam and students have to give the same test. This step will help students to reduce their burden and score better in the board exam.
Conclusion
Taking Maths exam in two levels can be considered as a progressive step by the CBSE board. It will not only reduce the burden of the students but will also help in increasing the percentage of those students who do not wish to pursue Maths further. However, the procedure of ranking has not been yet cleared by the board. Study Khazana will keep you updated with any development in this segment.
Hope you liked this article.Keep Visiting Mentor Way for regular updates like this.
About Post Author