NCERT Solutions Class 11 English Woven Words Poetry PDF
3 min read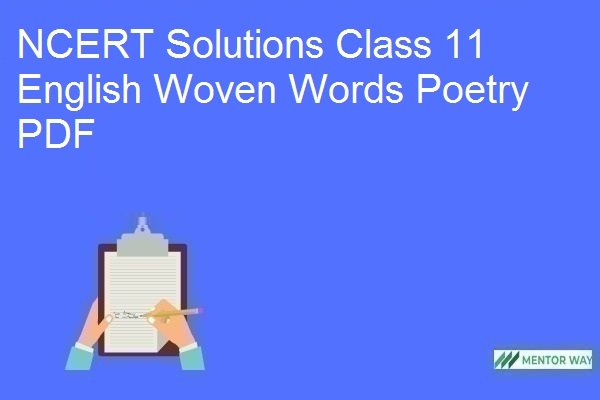 Here we are providing the most comprehensive NCERT Solutions For Class 11 English Woven Words Poetry PDF Chapter-wise. All solutions are the latest and strictly follow the CBSE pattern. You can easily download the solutions by clicking the links given below.




Download NCERT Solutions For Class 11 English Woven Words Poetry – Free PDF Chapter-wise
The Peacock
Let Me Not to the Marriage of True Minds
Coming
Telephone Conversation
The World is too Much With Us
Mother Tongue
Hawk Roosting
For Elkana
Refugee Blues
Felling of the Banyan Tree
Ode to a Nightingale
Ajamil and the Tigers
When you prepare for any exam, it requires a good amount of practice, crystal clear concept-building, accurate problem-solving techniques, and error resolving technique. You need to prepare your exam with full dedication and perfection as there is no scope for wrong decisions and choices.  Most of the students are confused while selecting the right book after moving in class 11.




NCERT books are well known for their simplicity as well as an interactive approach for teaching the students. NCERT textbooks don't dive into the complex theories. It provides the best study material required for attaining good marks in the exams. Along with NCERT textbooks, NCERT solutions play a very important role in securing good ranks and percentages in the school exams as well as board exams.
When it comes to English, you should always study from NCERT as there is no replacement or alternate book available for NCERT English. To make you're learning more powerful, an NCERT Solutions for class 11 English Woven Words Poetry acts as a catalyst.
Why NCERT?
The National Council for Educational Research and Training i.e. NCERT was established in 1961 with its headquarters in New Delhi. The main aim of this organization is to advise and assists the state and center governments on academic matters mostly pertaining to school education.




NCERT textbooks are published and distributed by this organization. The syllabus is prescribed by the Central Board of Secondary Education. These books are affordable as well as are available in different regional languages as well apart from English and Hindi.
NCERT books are highly recommended and accepted throughout the nation in all public as well as private schools. These books are easily available in villages and remote areas. The entire CBSE board examination pattern strictly follows NCERT and nothing comes beyond the book.
When we talk about the English language it requires a thorough understanding of the poems and the chapters. A solution book definitely proves to be handy and oil for your brain. There may be certain problems in the practice exercise of Woven Words which you mail fail to understand or answer. In such situations, a NCERT solution books become handy. Feel free to refer to the solution book provided by netbooks.mentorway which will help you "Moving On".
Why NCERT solutions books are needed?
The simple method of explanation:
Well, it may happen that you are stuck in some topic and may not be able to find the solutions especially for languages such as English where there are no direct answers and you need to find them on your own. You can easily refer to NCERT solutions to keep you going.
Study Anytime
You can download the solution book on your desktop, laptop or mobile and can study anytime. You can even read them while lying over the bed.
Essential for Board Examination
NCERT solution books offer a solid backbone in your preparation for boards. These books offer the right answers as per the Board expectation and distribution of marks.
Detailed and elaborated solutions
The solution books offer clear and appropriate content based on the latest CBSE pattern. By studying the solution book you will not only have access to all the answers but also helps you refine your preparation level.
About Post Author