NCERT Solutions for Class 10 Maths PDF Free Download
2 min read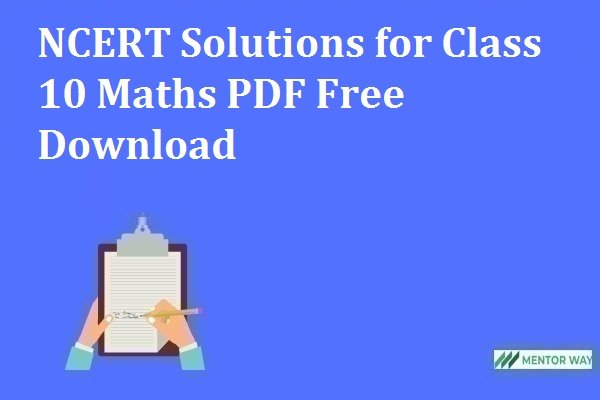 As the saying goes, "Mathematics is the music of Reason" and this is exactly what maths is doing which is building up your reasoning skills. It's not that you are just preparing maths for your exam but maths is preparing you for a bigger exam i.e. LIFE. NCERTBOOKS.Mentor Way has compiled the most accurate and comprehensive solutions for class 10 Maths NCERT solutions.
No Signup, No Login is required, Simply one-click PDF Download
NCERT Solutions for Class 10 Maths PDF Free Download Chapter-wise
All the 15 chapters have been covered in the most systematic manner following the latest standards followed by NCERT i.e. National Council for education and Research Training.
NCERT textbooks are being followed and adopted across all the major CBSE and State schools in India. Without covering NCERT textbooks, your preparation for the Board Exam is incomplete.
In school, there is a mix type of students some would be intelligent and some are slower. Even if you join tuition or coaching class, the same issue recurs. So, this means intelligent students are becoming more intelligent and the slower feel demotivated as individual attention is next to impossible even in coaching classes.
At NCERTBooks.Mentor Way, we believe that concept clearance is the foundation of any subject which is well reflected in our solutions. We have developed a step by step solution with proper reasoning so that even a slow grasper may find it easy to absorb all the concepts.
All the chapters are it solely arithmetic or algebra or geometry to trigonometry, we promise to provide you the easiest and understandable solution.
Our aim at NCERTBOOKS. Mentor Way is not only to prepare you for the class X exam but to provide a solid foundation for the higher classes and prepare you for the NTSE level exam as well. We know maths becomes boring if you are not clear about the fundamentals. And it applies to all the subjects.
We aim at clearing your fundamentals for free. Yes!! We don't charge any fees rather we feel that it's a moral responsibility of the society to encourage more and more students to come and become a bright future of the country.
All our solutions are for free so that each and every child gets benefited from netbooks. Mentor Way whether rich or poor. You just need a good internet connection, in case you don't have that you take help from cyber cafes or your friend. Mathematics is a beautiful subject and can do wonders if studied properly with expert guidance such as ours!!! Good Luck.
About Post Author