Significance Of Cyber Disaster Planning
3 min read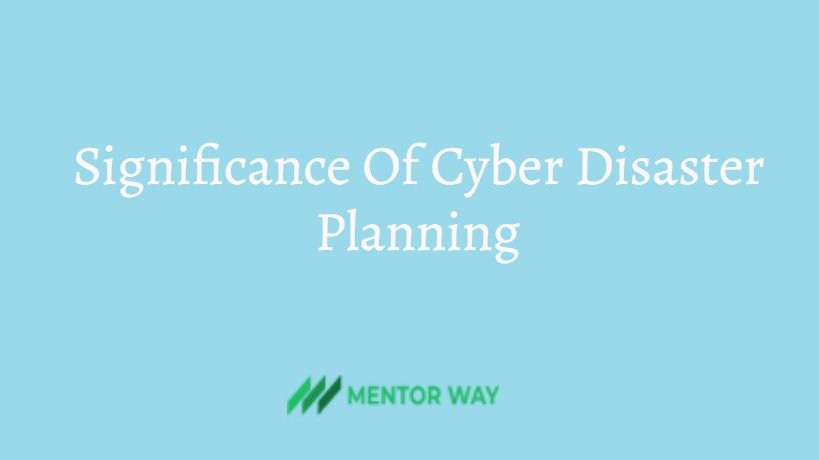 All the sectors of critical infrastructure are connected to the Internet. So, any cyber attack launched via Internet can cause disaster as all the sectors of critical infrastructure are connected via Internet. Disaster is an emergency situation; it includes cyber attacks, cyber terrorism, acts of information warfare and natural disasters. In case of a disaster, it is the responsibility of the IT manager to return an organization to normal functioning.
Cyber disaster planning is necessary to ensure the continuity of vital business processes after a disaster. All the business processes require information for their proper functioning. There are various threats to information resources of an organization such as viruses, DNS attack, DoS/DDoS attacks, web defacement, hacking, intrusions, semantic attacks misuse of access points and natural disasters.
Disaster recovery in an IT environment refers to the recovery of computer systems, software, information systems, etc. The disaster recovery plan must include all the actions that are to be performed before, during and after a disaster.
In recent years, disaster recovery planning has taken a new direction as disasters in cyberspace require a different approach to deal with. Cyber crimes like hacking, malware dissemination network attacks, etc. require a different approach to handle. Cyber disasters target the confidentiality integrity and availability features of information security. Information is power, unavailability of information causes a severe loss.
Organizations like banks, airlines railways,  process automated manufacturing companies, and hospitals have many critical applications, which are their lifeline. In all such cases, a disaster recovery plan is a prime necessity.
It specifies the procedure of recovery action when a disaster occurs, fixes the roles and responsibilities of individuals to deal with the crisis situation.
It includes various measures such as:
.  Alternative processing arrangements.
.  Duplicate and offsite storage of data, hardware & software.
.  Choice of systems and applications, which should run, in any case.
Need for Disaster Planning
Disaster planning is essential in order to ensure that the organization can continue doing business even after a disaster. With the help of an effective disaster plan, operations and processes could be resumed quickly in case of a disaster.
It provides a systematic approach for responding to unexpected and unplanned incidents. Disaster planning is required to respond recover, protect and keep the businesses running in case of disaster.
Disaster planning is needed because of the following reasons:
. To minimize the impact of a cyber attack.
. To ensure continuity of services to customers.
. To protect the organization's image, broad and reputation.
. To facilitate quick recovery.
. To reduce the downtime.
. To facilitate business survival
. To reduce data loss.
Following are the benefits or advantages of disaster planning:
Forecasting:

It involves forecasting and taking precautions prior to an imminent threat resulting in minimizing the effects of a disaster.
Provide Response Measures:

It involves mitigation and response measures to minimize the disaster impacts.
Provide Recovery Measures:

It includes recovery measures which help the community to return to their normal lives.
Provide Sense of Ownership:

It involves people and gives them a sense of ownership of the materials created or methods incorporated in education and public awareness.
 Hope you liked this article.Visit Mentor Way for more articles like this.
About Post Author