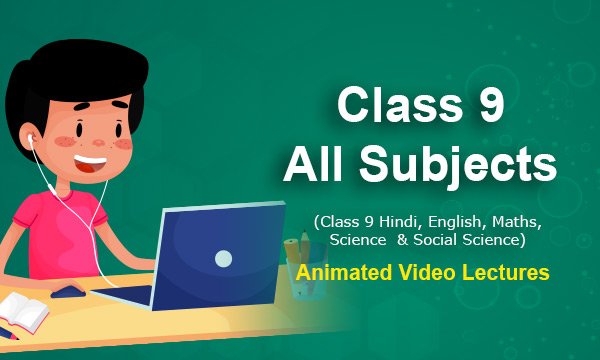 CLASS 9 VIDEO LECTURES: Gone are the days when students have to travel miles for education. In this age of digitalization, all CBSE class 9 video lectures are available at Mentor Way. The best thing about our Class 9 Video Lectures is that you can take them in a relaxed manner.
Maths, Science, English, and Social Science all CBSE class 9 solutions are now available online and offline in Pen drives, SD cards, and Tablets at Mentor Way. Here, the top educators impart education in plain and easy-to-understand language.
Class 9 is considered as one of the most prestigious classes in a student's life. A student who is thorough with the subjects of Class 9 will find it easier to score good marks in higher class exams. The student who doesn't take Class 9 seriously has to regret it in the future. Hence, students need to focus on their studies in 9th class, so that they will not face trouble in the future.
The top educators at Mentor Way have framed accurate learning packages that include the latest syllabus of CBSE class 9th textbooks, study materials, previous years question papers, and optimal solutions for the exercise problems.
At Mentor Way, we have designed all CBSE class 9 video lectures that will help you to score better in your examinations. We also provide all solutions in pdf and, therefore, you can go through these videos even if you are offline.
Free study material in PDF for all NCERT Solution for Class 9
Have you missed any lecture in your class? No need to worry at all. Mentor Way covers all the short tricks and notes for quick revision with the free study material in PDF. Select the subject followed by the chapter, and read through it on our website. Or open up a video of that chapter and revise all the essential concepts of that chapter, and you are all set to go.
In case you have any doubt, feel free to ask for solutions from our top educators. Just for your convenience, we have created a Whatsapp group for all students and teachers, where students can ask for their doubts from the teachers. You can even contact the teachers via phone call.
NCERT Video Lectures for Class 9 Science
NCERT Video Lectures for Class 9 Maths
CBSE Video Lectures for Class 9 Social Science
NCERT Video Lectures for Class 9 English
Mentor Way is the best option!
If you are looking for the best solutions for CBSE NCERT solutions for Class 9, then Mentor Way is the best option for you. Our top educators always aim to provide NCERT solutions that are simple and easy to understand. We also provide study materials for the students who rely on last-minute preparations.
Sometimes students panic while preparing for their exams. The teachers at Mentor Way make sure that their students have no fear and panic during exams and enhance their confidence.
Having a clear understanding of any concept will help you to tackle problems as early as possible, thus, our top educators provide quick methods to ensure that you are not wasting time in exams and your answers are correct.
Come and Learn with us, and be a top ranker of your class.